HEIDI – the savior of the chocolate marshmallow – now with new global HEIDI design by Mark & Mark.
7. November 2019
HEIDI Chocolat – the internationally successful chocolate brand and savior of the much-loved, traditional Austrian brand "Niemetz Schwedenbomben" – shows with its new logo design where its roots lie. The nature-loving Swiss mountain farmer child HEIDI is the dominant part of the new brand logo.
After a very broadly-based brand-finding process, the design agency Mark & ​​Mark succeeds in winning the competition for the relaunch of the HEIDI brand, including the entire packaging appearance.
The challenge for Mark & ​​Mark was harmonizing the naturalness and vitality of the famous novel character HEIDI with the original Swiss know-how of the chocolate production and the special quality of the HEIDI brand.
With the Silhouette of Heidi, who happily strolls across the meadow with a bunch of flowers, the design of the Viennese agency was able to persuade the management of HEIDI Chocolat repeatedly in several stages.
The new packaging design is also from Mark & ​​Mark. They have managed to express a harmonious connection between the product image and the "Appetite Appeal" as well as the high craftsmanship of HEIDI Chocolat.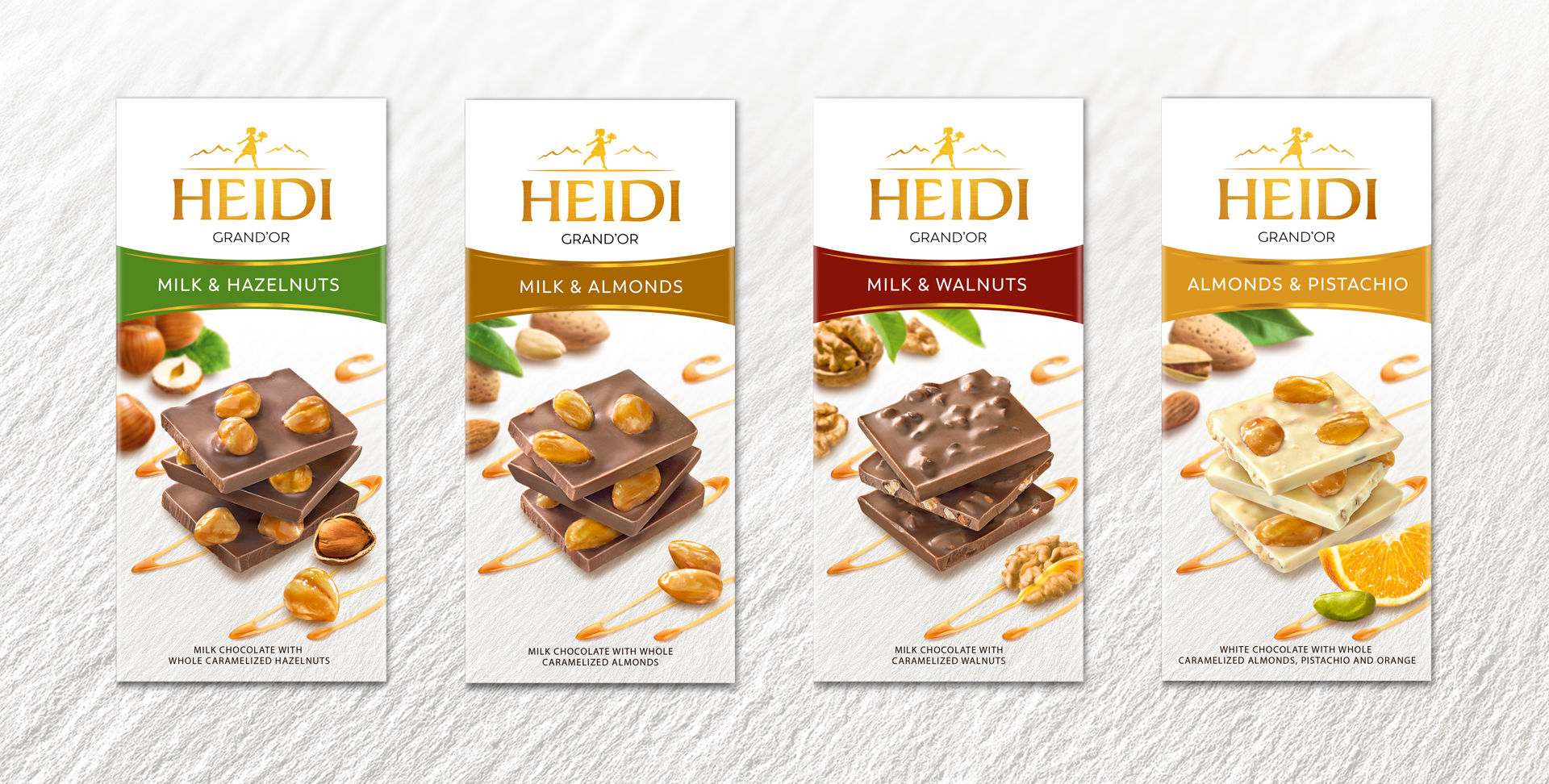 In addition to the entire HEIDI chocolate bar product range – with the top range Grand'Or, Dark and Florentine – the "Moments" and "Bouquet" range of chocolates was also redesigned and added to the HEIDI world.
Gerald Neumair, Chairman of the Board of HEIDI Chocolat AG, is pleased: "With the new HEIDI logo and the new brand image, the value worlds connected with HEIDI, such as vitality, love of nature and happiness in life, are implemented in a creative and high-quality way!"
John Mark, CEO of Mark & ​​Mark Design Agency, comments: "Due to its global presence – represented in more than 50 countries – HEIDI has been one of the most exciting and comprehensive brand design development processes we are all very proud of. The new packaging design for which Ursula Mark, Creative Director, is primarily responsible, is of course also a very special highlight in our very successful Packaging Design Gallery!"